Wheel Restraints
Safety-Chock© Wheel Restraint
The Serco Safety-Chock secures trucks with a simple, effective, automatic wheel chock mounted above grade, allowing it to operate under the most extreme weather conditions. Because of its revolutionary design, the Serco Safety-Chock doesn' impede lift gate operation or interfere with the landing gear on pup trailers. With maintenance-free, self-lubricated guide bearings and no mechanical drive components to wear out, the Safety-Chock is simple to maintain, too. It also acts as a guide rail for the reversing trailer, limiting damage to the seal or shelter.
Features:
Above-ground installation
Push-button activation
Acts as a guide rail to help trucks back in straight, preventing shelter damage
Sealed roller bearings
Remote-mounted hydraulic power pack
Hot-dipped galvanized finish
Sealed, waterproof 24-volt proximity switches
No lift gate interference
No pup trailer interference
No mechanical drive components
Virtually no maintenance required
Two-speed hydraulics
Integral positioning guide rail
Low-voltage electrical requirements
Internal/external light control package
Constant restraining force to help prevent "railer creep"
---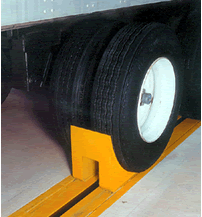 Universal Truck-Chock Wheel Restraint
The Serco Universal Truck-Chock is a permanently installed, automatic wheel-chocking system that effectively restrains trucks with a hydraulically operated, moving wheel chock. The Universal Truck-Chock provides continuous restraining force to the chocked wheel, reducing the probability of landing gear collapse, trailer creep or trailer walk, and can even service trucks with lift gates lowered to grade level. The chock is flush mounted in-ground, providing no interference for snow plows or drive cleanup.
Features:
No lift gate interference
No pup trailer interference
Push-button activation
Flush-mounted, in-ground design
Acts as a guide rail to help trucks back in straight, preventing shelter damage
Self-contained, remote-mounted power pack
Virtually no maintenance required
Internal/external light control package
Constant restraining force to help prevent "trailer creep"
Electrical components and controls remote-mounted inside dock
Double-acting hydraulic cylinder
Only two moving parts
Heat tracer cables prevent ice build-up
Audible motion alarm