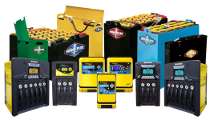 Battery / Charger Sales
Hawker Industrial batteries and chargers, the highest quality, and best value for your forklift and pallet jack battery needs.
Industrial Battery Service
Our Battery/Charger technicans understand the need for efficient battery use, and have the know how to install, maintain and repair your equipment to keep it in top condition
Loading Dock Sales
Serco Dock Equipment, known for durable and reliable loading dock equipment, hydraulic dock levelers, safety products and control systems.
Dock Installation and Repair
Your loading dock is an essential channel in your workflow, and our techs have years of experience installing, maintaining and repairing your equipment to keep you moving.

Cisco Warehouse
We provide a variety of other sales, installation and service to keep your warehouse at peak efficiency.
Vertical Balers
Horizontal Balers