Hawker® Water Less® Battery
The Power To Reduce Expenses
The Water Less battery is the preferred solution for customers looking to reduce watering problems and expenses without sacrificing run time or cycle life, and they require watering only four times per year.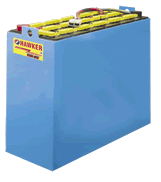 Solid Performance
No need to sacrifice performance for reduced maintenance. Waterless provides the full performance of a flooded battery.
Full Capacity - Water Less offers 85, 100, and 125 AH capacities.
Long Life - Waterless maintains and estimated life cycle of 1500 - 2000 cycles based on 1 cycle per day, and 80% DOD 5 days a week.
Application - Can be used in medium and heavy applications.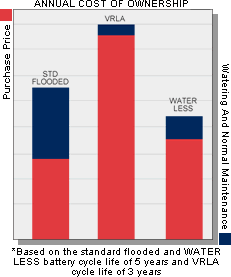 Reduced Expenses
Reduced maintenance means less watering, reduced costs, and no special charger required.
Less Watering - Waterless requires watering just four times per year in many applications.
No Special Charger - May be charged on a standard charger.
Maintenance Plan - Cisco can set up a planned maintenance program including watering your battery. This offers you a "no maintenance" battery option.