AirBag Dock Levelers
Air-powered technology is a common tool used for heavy lifting in the mining, building and construction industries. And the Air Bag Dock Leveler utilizes this technology to provide proven, long-term, reliable service on the loading dock every day. Compared to mechanical dock levelers, the Air Bag Dock Leveler is safer and far easier to operate. To raise, simply push a button. There's no back-wrenching pulling of chains, walking down the deck and, best of all, no springs or hold-down to repair or replace.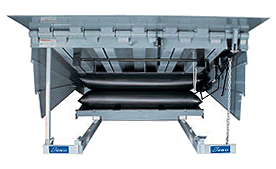 Features:
50,000 PSI high-tensile steel deck and lip assembly,depending on selected dock leveler capacity
Structural safety legs provide support at and below-dock loading
Full-range telescopic toe guards
Polyvinylchloride-coated polyester fiber air bag lifting mechanism
Removable pan for additional easy clean-out
Integral maintenance strut for deck support
Optional 18" or 20" lip for longer lip purchase
Lip extension extends lip at full height
High-volume, low-pressure air bag lifting mechanism
10 amp fan with two-stage, single-speed, self-cleaning filter
UL-approved motor with single-phase 110 volt electrical power
Clean-Frame design for easy clean-up, maintenance and inspection
Nite-locks prevent unauthorized entry
Clean-Frame Design
The unique Clean-Frame design provides full structural integrity without conventional front frame members. The Clean-Frame design allows wide-open access to the leveler pit for easy clean-up of spills, trash removal and routine maintenance. In addition, all frame-ends are capped to prevent rodent entry through the leveler.
Construction Strength
The leveler deck and lip are manufactured with a heavy-duty, high-tensile 50,000 PSI steel (depending on selected capacity), with a unique beam design that can withstand repeated impacts of fully-loaded forklifts. The torsionally-capable beam design provides the strength required for fully-loaded forklifts and enables the deck to conform to out-of-level trailers.
Air Bag Durability
The heart of the Air Bag Dock Leveler, the air bag, is made of rugged, reinforced coated polyester fibers. The bags are resistant to many chemicals, gasoline, oil spills, cuts, scrapes and even punctures. To ensure operational efficiency even in the toughest conditions (like yours), we put air-powered lifting technology through extensive testing.
Puncture Testing:
Even with numerous puncture holes, the Serco Air Bag continued to operate. The holes did not "star," tear or rip and were easily repaired with an inexpensive vinyl patch, returning the leveler to full operating efficiency.
Environmental Testing:
To prove the Serco Air Bag's durability, 100 Serco Air Bag Dock Levelers were installed in a variety of extreme environments for a full year. Extreme heat, extreme cold, caustic chemicals, high-altitude and high-traffic volume environments didn't affect the air bag performance in any way.
Cycle Testing:
The Serco Air Bag has been tested in over 200,000 cycles (the equivalent of 20 years of service at a standard dock position) and still worked without permanent damage that impeded operation of the leveler.
More information about Serco Air-Powered Dock Levelers