ATEC™ Series HVLS Fan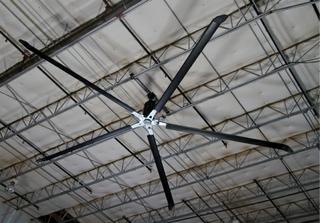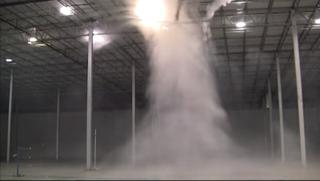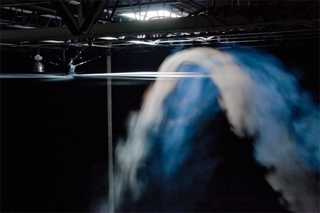 These very large ceiling fans create a more comfortable environment using the least amount of energy. The Serco Advanced Technology for Environmental Control HVLS fan (ATEC HVLS) fan is advancing HVLS technology through controls and improved airflow and energy savings. The Serco ATEC features an advanced blade profile which means more lift, while the five blade design results in less stress to your building.
HVLS Video Demonstrations
Keep employees cool and comfortable. The 2-3 mph breeze delivers the equivalent of a 7-11 degree reduction in the perceived temperature.
Reduce energy consumption. Working with the HVAC system, Serco fans help regulate temperature from ceiling to floor, which can allow a facility to raise its thermostat setting 3 - 5 degrees. This creates a potential energy savings of up to 4% per degree change.
Protect product integrity. Air circulation helps keep food and produce dry and fresh, reducing potential for decay or spoilage. Air circulation reduces stagnant air, hot and cold spots and condensation. Serco fans are also designed to operate in reverse, which helps de-stratify air in cool season operation.
Improve working conditions. Floor condensation is minimized, keeping floors drier and safer for foot and motorized traffic. Improved indoor air quality is improved through the dispersing of fumes. Fans can be operated from a centralized location using Serco iFAN network controls (sold separately), allowing a facility to easily monitor fan activity and performance.
Contribute to LEED certification in various categories. Energy efficiency and atmosphere. Indoor environmental air quality. Innovation and design.
HVLS Frequently Asked Questions
What is a HVLS Fan?

A HVLS (High Volume Low Speed) fan is a very large ceiling or pole mounted fan with blades from 7-24 feet long. A HVLS fan moves large volumnes of air because of it's blade length and design.

How do HVLS Fans Work to Cool an area?

HVLS fans break up the moist aire and accelerate evaporation to produce a cooling effect. The Serco ATEC's airfoil style blade design produces a massive, cylindrical column of air that flows down to the floor and outward in all directions, creating a horizontal floor jet that consistently circulates air in large spaces. This 'horizontal floor jet' pushes air a greater distance before it is pulled back vertically toward the blades. The greater the down flow, the greater the air circulation and resulting benefits.

How does reversing a HVLS fan warm an area?

In the colder months, fans can be run in reverse to circulate the hot air trapped at ceiling level known as 'destratification', pushing the warm air back down to the lower levels, and reduces heat loss through the ceiling.

Why are HVLS fans more efficient?

Because they cover more area, the save money over having many smaller ceiling fans.

How do you install an HVLS ceiling fan

We offer professional custom installation, so that the fans can work with your HVAC system.

What industries are HVLS fans appropriate for?

Commercial Warehouses
Large Industrial Spaces
Breweries
Large open offices
Have more Questions?
Call Cisco at 1-800-968-8651