Cisco Battery and Charger Division is the dealer in Michigan and Northern Indiana for Hawker Industrial Batteries, the world's largest industrial battery manufacturer with the highest standards of quality control value for your forklift, lifttruck, and pallet jack.
Industrial Battery Chargers

Perfectly match your battery with the latest in high performance, high economy chargers. The extensive HAWKER® line of modular, high-frequency chargers offer advanced scalability, redundant power, simplified service, and maximum flexibility.
Battery and Charger Planned Maintenance Program

A maintenance program will keep your batteries in peak condition, keeping them efficient, safe and effective. Regular inspections for voltage, damage, proper venting and more.
Industrial Battery Reconditioning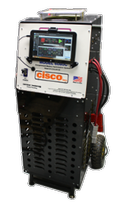 Cisco Inc. uses cutting edge technology to take a battery that would otherwise be scrapped and breathe new life into it. While great for aging batteries, it help with performance and safety on newer batteries too. Cisco Inc. is the only company in the area with this ability to give batteries a second chance.
Battery and Charger Rental
We rent forklift batteries and chargers on a month to month basis for all makes and models of forklifts and pallet jacks.