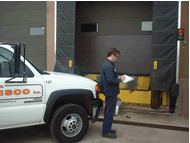 Cisco's planned maintenance program is designed to reduce our customer's cost of ownership for their dock equipment. Cisco reduces, as much as possible, costly return trips to make repairs after a P.M. by coming prepared with parts. We are able to do this by taking all the specification data on dock levelers, vehicle restraints, seals, shelters, and bumpers, of each dock door. By knowing this specific information we are able to stock our shelves and trucks accordingly. High maintenance parts by specific model (hold down assemblies, ratchet bars, pawls, shocks, bumpers, etc.) are inventoried by computer generated reports of all customers on our planned maintenance program.
Specific differences Cisco Provides: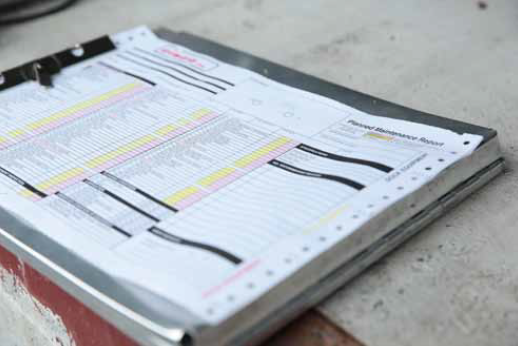 We repair all brands of dock levelers, vehicle restraints, seals and shelters.
Complete adjustments and test cycling, operator training and cost saving suggestions.
We clean the pit of all debris for smooth and safe operations.
We use premium lubricant to lubricate maintenance points. This sprayable grease does not drip off, nor is it washed off by water as light weight oil can. It cuts grease and dirt build up, and doesn't attract dirt.
An inspection / service report is completed on each unit (dock leveler, vehicle restraint, seal / shelter, dock bumper) and a copy is returned to you.
Cost per dock unit is maintained to help determine replacement decisions or for budgeting purposes.
Guaranteed 24-hour service response time for all customers on P.M.
A Planned Maintenance Program Is Important
A P.M. program is the only way to insure that your dock equipment will be safe, dependable, and will reduce downtime.
We provide documented safety and maintenance inspections performed by a factory-trained technician for your OSHA inspections and insurance company policy reviews.
Correct minor problems before they become major and expensive problems.
Cleaning, lubricating, and adjustments are part of normal maintenance required on dock levelers, which extend equipment life.
Cracked hinges and broken welds accelerate dock leveler deterioration and cause premature replacement.
Forklifts that roll off defective dock levelers are a serious safety hazard along with the expensive repair cost to the forklift.
Why Choose Cisco?
Competitive Pricing.
Our technicians are trained on all aspects of dock service, repairs, and installation of new equipment.
We service and repair all brands of dock boards (mechanical & hydraulic), seals, shelters, bumpers, and DOT truck restraints.
Minor repairs to cracked hinges and broken welds are part of our normal planned maintenance program, no hidden cost's or add on's.
Complete written inspection reports supplied.
Worn parts are noted and can be ordered and installed at next scheduled inspection or immediately if requested.
Communication with and training of users of equipment.
Find out how Cisco Dock Maintenance progams can save you time and money!
616-534-8651 / 800-968-8651