Fast Facts
A family owned Michigan based corporation for 69 years, providing loading dock, battery and charger sales, parts and repair.
Founded July 7, 1954 by AG Morrison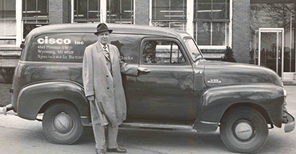 The Beginning
When we began supplying material handling equipment in 1954 our company founder had one vision in mind... to offer excellent service to our customers. We were small back then with humble beginnings, but we held tight to our vision and our business continued to grow. Not only did we grow over the coming years, but our customers grew as well.
Today
Today Cisco Inc. continues on as a third generation family business and is recognized as the industry leader in loading dock and industrial battery equipment. Today, our vision remains the same... to offer excellent service to our customers!
The Future
Looking to the future, Cisco Inc. will continue to be here, providing loading dock and battery/charger equipment and services to keep business flowing, and looking at ways we can serve better. You can count on us to continue the pursuit of excellent service.