Energy-Plus
The Ultimate Power Source
Energy-Plus is a battery that can stand up and deliver even under the most punishing conditions.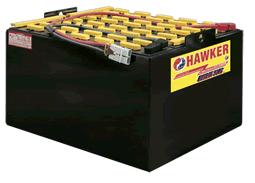 Up To 25% More Energy
Energy-Plus delivers more active material than conventional batteries without an increase in tray size. With more energy, your trucks can operate with attachments and never lose power.
Longer Work Cycles
Energy-Plus has a higher sustained voltage than any other battery in the industry. This means that your trucks move faster, work longer without recharging and experience less motor wear caused by excessive amp draw.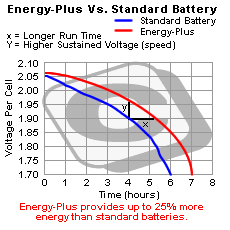 Longer Battery Life
Energy-Plus is designed with a balance of active material and acid volumes for higher energy and longer battery life. The Energy-Plus battery maintains an estimated cycle life of 1500 - 2000 cycles, based on one cycle per day and 80% DOD. Longer life means less expensive.
Lower Operating Costs
The Energy-Plus battery offers an extended running time. Less change outs mean a reduction in spare batteries and chargers. And fewer batteries mean less water, fewer batteries to charge and less room required for battery storage space. Higher productivity and the need for fewer batteries mean a reduction in the total ownership costs.
Applications
The heavy duty Energy-Plus battery has power enough to stand up to even the most punishing conditions, and deliver when you need it most.