Hawker Powersource, the world's largest lead-acid battery brand, offers Flex TPPL battery, and FlexPAK, a sealed battery and charger combination pack designed for convenience and flexibility. This thin plate battery technology offers lithium-ion battery performance at a lead-acid battery price.
Typically, battery maintenance requires fluid level checks, regular watering, standard charges, equalization charges, periodic cleaning and overall, consistent monitoring. And with conventional charging, it can take anywhere from 8-10 hours to completely charge a battery. Ideally, another 8 hours for the battery to rest. The process can be complicated and labor-intensive. Which, for a multi-shift operation, presents a unique challenge, to balance charging needs with forklift use and maintain productivity.
Flex Battery - The Future of Forklift Power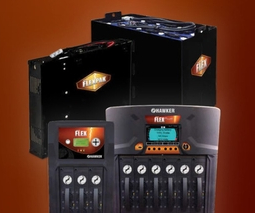 Ideal for multi-shift and cold storage operations, the Flex battery system allows for opportunity charging without the need to water. The Flex Thin Plate Pure Lead battery is virtually maintenance free. Because no watering means no corrosion.
Flex and FlexPAK batteries can eliminate routine maintenance:
Forget about watering - forever.
Forget about corrosion - forever.
Only one full charge and equalization per week.
Minimum gassing: ideal for use in shops, public areas, and sensitive manufacturing areas.
Ideal for partial state of charge operations with one full charge and equalization per week.
What's Inside a Flex/Flexpak TPPL Battery?
Hawker's Flex and Flexpak batteries feature a glass mat separator designed with small pores or holes. This porous mat allows high electrolyte absorption and chemical stability for increased charge cycles.The positive and negative thin plate grids are corrosion-resistant and have a low internal resistance, providing a higher capacity and charge acceptance.
Benefits? Yeah, there's a lot of benefits. 
Short recharge times
Faster battery availability
Ideal for multi-shift operations
Environmentally friendly
Recyclable
Ideal for opportunity charging.
Works very well in cold storage.
Extreme shock and vibration resistance
Long shelf life (up to 2 years at 68 F).
Applications: What's the TTPL Battery Good For?
Suitable for all types of light-duty and medium-duty applications:
pallet trucks
industrial utility vehicles
automated guided vehicles (AGV)
floor care/cleaning machines
shuttle personnel carriers
FLEX THIN PLATE BATTERY The Power of Productivity HAWKER's FLEX Thin Plate Pure Lead (TPPL) battery is essentially maintenance-free, and allows for frequent recharging. Cycle life increases exponentially with more frequent plug-ins.
Ideal Charger Partners for the Flex Batteries
The Hawker FLEX and FLEXPLUS battery chargers optimize cycling performance and reduce recharging times. Modular high-frequency, smart chargers are ideal for use with FLEX and FLEXPAK batteries:
FLEXPLUS MOD3 CHARGER  Offers three TPPL profiles for operational flexibility, the FLEXPLUS MOD3 modular high-frequency switch-mode, smart chargers are the smartest and most energy-efficient chargers in the business. The FLEXPLUS MOD3 communicates wirelessly with the Battery Boss WC (BBWC), and provides superior performance related to reducing battery recharge costs. With a 7-inch, multi-color TFT display screen, this charger is very user friendly.
FLEX MOD3 CHARGER  The FLEX MOD3 modular high-frequency switch-mode, smart chargers provide a less feature-rich option for TPPL 2 volt or monobloc charging.
HAWKER FLEX and HAWKER FLEXPAK™ batteries must be charged with a HAWKER approved charger.
FLEXPAK BATTERY/CHARGER Combination battery/high-frequency charger allows for easy opportunity charging via 110 VAC outlets whenever the lift truck is not in use. On board charger eliminates the need for spare batteries and battery changing.
Watch a video explaining the TPPL technology
If you think easier maintenance, quick opportunity charging, and longer use cycles would be good for you, contact us by form or call 616-534-8651.