We pair our energy saving solutions with Consumers Energy and DTE Energy to help you obtain rebates.
That's a double savings!
We Proudly Serve Michigan's & Northern Indiana's Loading Dock Equipment Needs!
We are dedicated to helping you keep your loading docks safe and efficient.
Call 800-968-8651 or email us at docks@cisco-inc.com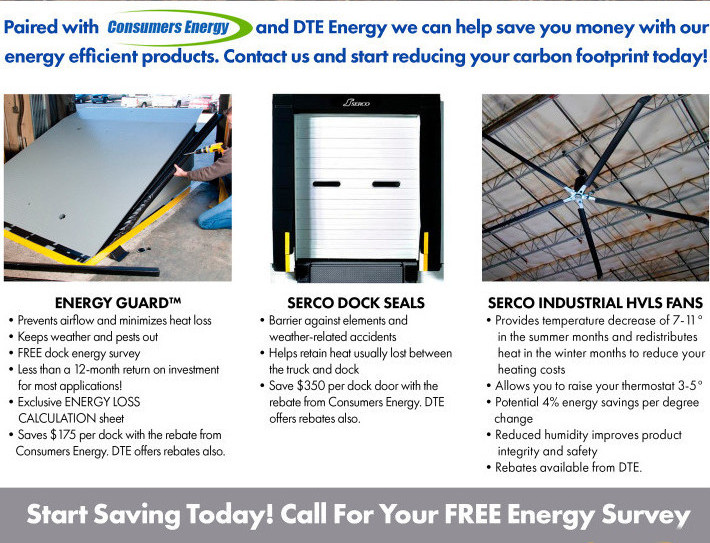 Paired with ConsumersEnergy and DTE Energy we can help save you money with our energy efficient products. Contact us and start reducing your carbon footprint today!
ENERGY GUARD™
Prevents airflow and minimizes heat loss
Keeps weather and pests out
FREE dock energy survey
Less than a 12-month return on for most applications!
ENERGY LOSS CALCULATION sheet
Save $ 175 per dock with rebate from Consumers Energy. DTE offers rebates also.
SERCO DOCK SEALS
Barrier against elements and weather-related accidents
Helps retain heat usually lost between the truck and dock
Save $350 per dock door with rebate from Consumers Energy, DTE Offers rebates also.
SERCO INDUSTRIAL HVLS FANS
Provides temperature decrease of 7-11 deg in the summer months and redistributes heat in the winter months to reduce your heating costs
Allows you to raise your thermostat 3-5 deg
Potential 4% energy savings per degree change
Reduced humidity improves product integrity and safety
Rebates available from DTE.
Start saving today! Call 800-968-8651 for your FREE Energy Survey