Catalog
»
Loading Dock Seal and Shelter
S-2200 Ultra Dock Shelter by SERCO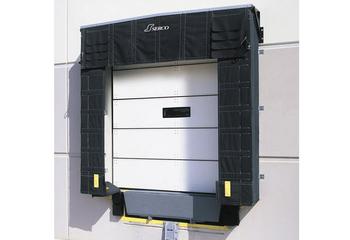 S-2200 Ultra Dock Shelter
The Serco Ultra Dock Shelter creates a tight seal between the building and the trailer to keep the elements out of the warehouse for increased energy savings and employee comfort. A raked, translucent head allows natural light to enter the dock area while overlapped fabric layers provide more wear resistance against the sharp corners of the trailer.
Design Highlights
Full access loading capacity
Compressible foam side frame prevents damage from off-centered trailers
Maintain temperatures in climate-controlled facilities
Durable coated fabrics and optional flame-retardant foam and fabrics
Roll-formed galvanized steel frame (5-year limited warranty)
Call Cisco or use our Contact form and let us know how we can help with sales, service, installation or questions.