Catalog
»
Loading Dock Seal and Shelter
SI-310 Inflatable Dock Rail Shelter by SERCO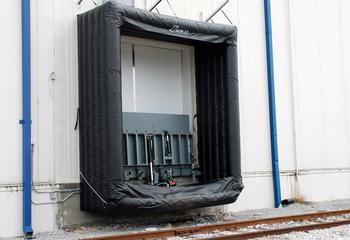 SI-310 Inflatable Dock Rail Shelter
Serco rail shelters, available in mechanical and inflatable models, offer a protected connection between a railway car and your loading dock to protect cargo from outside elements. Rail shelters suspend on a steel frame and have steel extension arms to cover gaps between docks and rail cars.
Mechanical models include hook & loop tiebacks
Mechanical models include fluorescent red safety stripes for increased visibility
Air inflatable models include automatic reset thermal overload protection
Call Cisco or use our Contact form and let us know how we can help with sales, service, installation or questions.