Catalog
»
Loading Dock Accessories
E-Saver LED Lamps by APS RESOURCE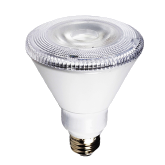 Designed with LED optics, the E-Saver 38 bulb gives you maximum illumination throughout the truck trailer. This bulb will save you a significant amount of energy while providing a rapid return on investment.
Energy Star® certified
Par38 shape fits most existing dock lights and light fixtures for easy installation
Meets requirements for food and pharmaceutical companies
5-year warranty
Call Cisco or use our Contact form and let us know how we can help with sales, service, installation or questions.