West Michigan's Leading Supplier of Loading Dock Equipment!
Cisco helps you keep your loading docks safe and efficient. Making sure you are properly sealed up from the cold can save you a significant amount of money in energy costs.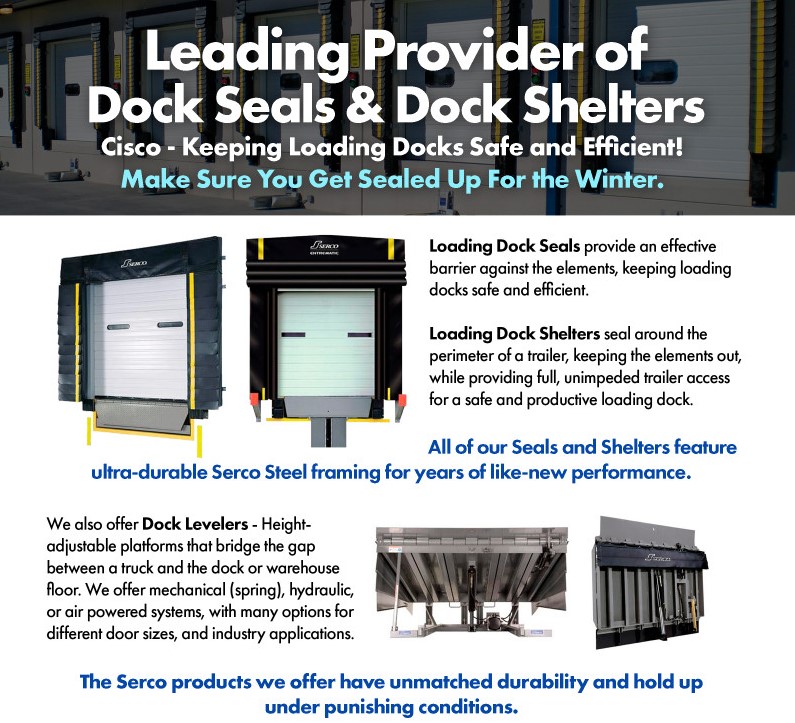 Make Sure You Get Sealed Up For the Winter.
Loading Dock Seals provide an effective barrier against the elements, keeping loading docks safe and effcient. Loading Dock Shelters seal around the perimeter of a trailer, keeping the elements out, while providing full, unimpeded trailer access for a safe and productive loading dock.
All of our Seals and Shelters feature ultra-durable Serco Steel framing for years of like-new performance
We also offer Dock Levelers - Height - adiustable platforms that bridge the gap between a truck and the dock or warehouse floor. We Offer mechanical (spring), hydraulic, or air powered systems, with many options for different door sizes, and industry applications. The Serco products we offer have unmatched durability and hold up under punishing conditions.
Don't wait until the last minute.
Call 616-534-8651 or email us at docks@cisco-inc.com