Catalog
»
Dock Leveler
AB-Series Air-Powered Dock Leveler by SERCO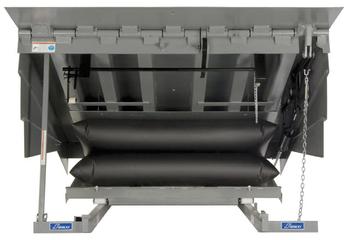 AB-Series Air-Powered Dock Leveler
The Serco Air Bag Dock Leveler combines air lifting technology with durable features for years of trouble-free operation. The air bag can hold up against chemical spills, weather and even small holes. And with no springs and no-hold-down, you won't have to worry expensive repairs.
Easy lip control for lite-step force to lower leveler
Open leveler frame allows easy access to the dock pit for cleaning and routine maintenance
Simple push-button on inside wall to raise the deck
Low-pressure air bag technology offers a tough, highly reliable performance
Exclusive frame design provides first-rate structural support
Optional reflex system provides fluid free-float motion and a measure of free-fall protection
Central maintenance strut for deck support
Video of Installed Air Powered Leveler
Call Cisco at 800-968-8651 or Contact us about the AB-Series Air-Powered Dock Leveler and let us know how we can help with sales, service, installation or questions.