Hawker® PowerTech™ High Frequency Intellicharger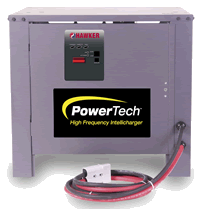 The PowerTech High Frequency Intellicharger offers all of the savings of the LifePlus 2000 charger, but in a simpler single voltage configuration and in an industrial cabinet. PowerTech is designed to save you money:
Save on utilities - operates at a power factor of 100% and at an efficiency of approximately 92%.
Save on watering - reduces you watering intervals by at least 25%
Save on battery life - extend battery life by minimizing heat gain during recharge
PowerTech can recharge batteries from 250 to 1200 AH without any adjustments - as long as they are the same voltage.